Welcoming Dr. Harry Dumay and Dr. Nicole Prudent to our Board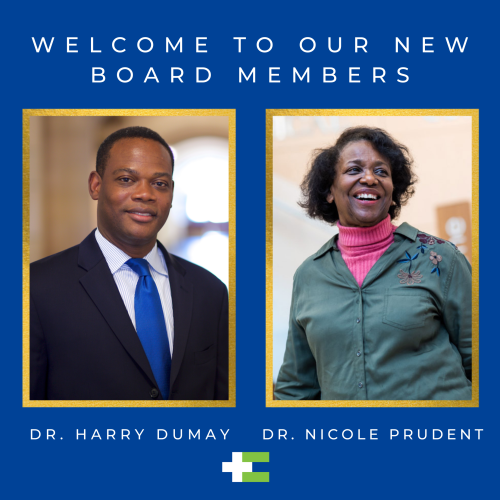 HEI/SBH is pleased to announce the appointments of Dr. Harry E. Dumay and Dr. Nicole Prudent to our Board of Directors. We are grateful for their perspectives and expertise, which will help guide our organization through the years to come.
Harry E. Dumay, PhD, MBA, is the 11th President of the College of Our Lady of the Elms. He has served in higher education finance and administration at senior and executive levels for 19 years. Prior to assuming the presidency of Elms College, Dr. Dumay was senior vice president for finance and chief financial officer for Saint Anselm College from 2012 to 2017. Dr. Dumay formerly served as chief financial officer and associate dean at Harvard University's Paulson School of Engineering and Applied Sciences (2006-2012), associate dean at Boston College's Graduate School of Social Work (2002-2006), and director of finance for Boston University's School of Engineering (1998-2002). He also served as an adjunct faculty member at Boston College for nine years.
Nicole Prudent MD, MPH, is Emeritus Associate Clinical Professor of Pediatrics at the Boston University School of Medicine and the co-founder of the Haitian Family Support Center. In addition to her large clinical practice at Boston City Hospital/Boston Medical Center, she led the Haitian community in the development and implementation of several public health campaigns funded by the City of Boston, the MA Department of Public Health, and several federal US agencies. The campaigns have included increasing the participation of new immigrant women in prenatal care; mobilizing the community in the fight against HIV/ AIDS and its related stigma; developing a special music program for children orphaned by HIV; preventing teenage pregnancy; creating after school programs to increase school success and decrease dropout among adolescent immigrants; promoting effective parenting; and mentoring and collaborating on the creation of a path for youth interested in health careers.
To find out more about Drs. Dumay and Prudent, as well as the rest of our Board, please visit our Board of Directors page.