Story
Both Basic, and Miraculous: Advanced Surgical Care in Rural Haiti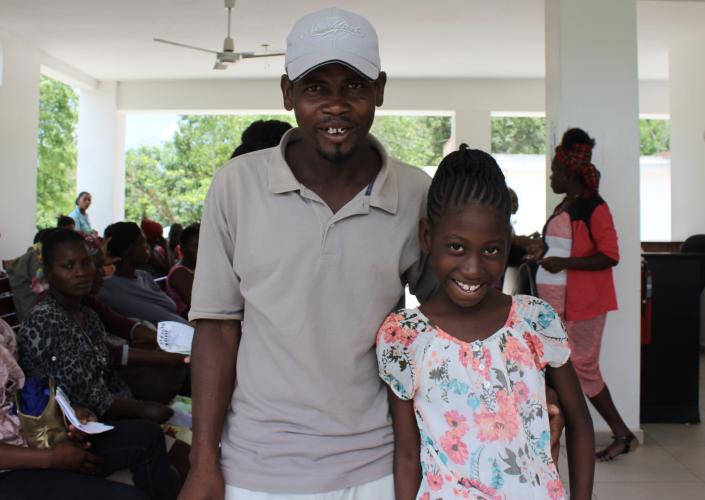 Providing high-quality, advanced healthcare in rural Haiti requires a team effort and the coordination of four key things, as Paul Farmer likes to say: staff, stuff, space, and systems.
HEI/SBH now has the staff, space, and systems in place to provide high-quality surgical care, but we often rely on corporate and academic institutions to help provide the stuff (equipment and supplies). Case in point: our first laparoscopic surgery.
Laparoscopic, or minimally-invasive, surgery is a common technique in the US and other countries with advanced healthcare systems but is nearly unheard of in places like rural Haiti where access to even the most basic surgeries is out of reach for the majority of the population. Yet, being able to provide this kind of advanced care makes a huge difference in the lives of patients like ten-year-old Nadine.
Nadine was very sick for several months. Her infection would not go away, and it got harder and harder to breathe. Her worried parents, Elie Rose and Celie-Charles, brought her to SBH to find out what was wrong.
"As soon as we arrived at the hospital Nadine got scans and they figured out what was wrong with her," explained Celie-Charles. "We felt like she was being taken care of immediately."
Nadine had been suffering from pneumonia, which caused scarring on her lungs. The scarring had made it impossible for her left lung to inflate, so she was living with only one functioning lung by the time she came into the hospital. Nadine needed surgery to repair her left lung and allow her to breathe normally again.
Doing minimally invasive pediatric chest surgery in rural Haiti is both basic, and miraculous. 
Dr. Pierre Theodore, VP Medical Devices, Johnson & Johnson
Luckily, our surgical center (built with support from USAID's American Schools and Hospitals Abroad program, with thanks to the generosity of the American people) has recently been outfitted with laparoscopic equipment, thanks to Dr. Pierre Theodore who coordinated donations from Stryker and Johnson & Johnson/Ethicon. This new equipment would allow Chief Surgeon Dr. Luther Ward and the surgical team to do the procedure without creating a huge incision in Nadine's abdomen. This was to be the first laparoscopic operation done at SBH. The thoracic surgery team at the University of California San Francisco Medical Center consulted on the case and the laparoscopic procedure that Nadine needed. As Dr. Pierre Theodore explains, this consortium of industry, academia, and effective global health NGOs is what makes high-level care possible in such a resource-starved area:
As Dr. Theodore explained, "the global partnership between Johnson & Johnson, UCSF, Dr. Luther Ward's leadership, and the excellent staff and facilities at SBH, is what makes it possible to bring advanced medical care to this very rural area of one of the poorest countries in the world."
Nadine's was a tricky case for the anesthesia team since they could only ventilate her functioning right lung for most of the procedure. Suddenly, partway through the procedure, a near-disaster struck: Nadine's healthy lung became clogged with debris, blocking her only working airway. In order to keep her breathing, the team had to quickly and precisely roll the young girl onto her side, inflate both lungs, and unclog the working lung. These were a tense few seconds, as Dr. Ward described them later, but the team is used to working under pressure and they responded so quickly and efficiently that they were able to continue the surgery immediately, and Nadine did not suffer a dangerous loss of oxygen.
Dr. Ward had high praise for CRNA Tonine Abraham, who was the lead anesthetist on the case. "Tonine stayed composed throughout the procedure while performing maneuvers that were completely new to her and complicated by US standards."  
After a successful laparoscopic surgery and a few days of recovery in the post-operative ward, Nadine and her parents returned to their home in L'Azile, nearly two hours from Fond des Blancs, where Nadine's 4 siblings and their extended family were waiting to welcome her home. 
Image
A few weeks later they returned for a check-up and to have the drainage tube that had been left in Nadine's side removed. The ten-year-old had been transformed. When she was feeling sick she rarely smiled and didn't want to talk. Now she was bubbly and energetic, happy to see Dr. Ward and the nurses who helped care for her. But she was also scared about having the tube removed from her side.
When the time came she asked, through tears, if it would hurt. Dr. Ward assured her it wouldn't. But, as with any child scared about a procedure, she couldn't believe him and buried her face in her father's shoulder. In just a few seconds, Dr. Ward removed her dressing, removed the tube, and taped down a new piece of gauze. "It's over!" he cried in Creole and Nadine looked up from her dad's neck, silent and surprised. She started to laugh and looked up at her dad then at Dr. Ward.
"I feel fine! It didn't hurt at all! Thank you, St. Boniface!"
Thanks to our partners at Stryker, Johnson & Johnson/Ethicon, UCSF, and USAID/ASHA for helping make Nadine's surgery successful, and allowing her to get back to being a kid again.