Story
Dr. Mirielle Bien-Aimé and SBH's Growing Emergency Care Department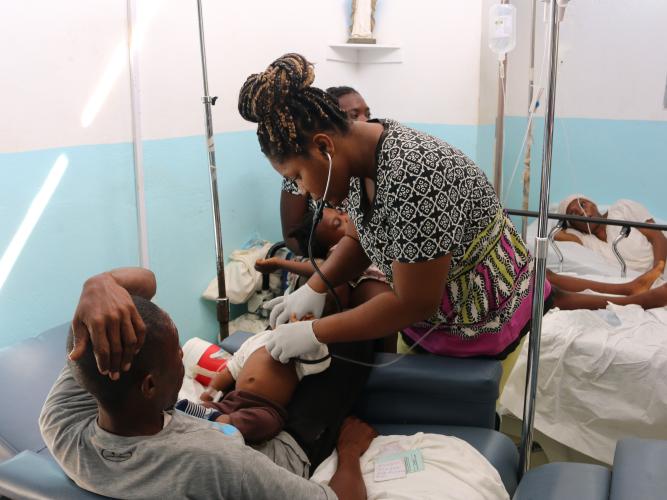 Only a few hospitals in Haiti have emergency rooms that people suffering from injuries or acute illnesses can rely on. In the past few years, patients have been coming to SBH's emergency department in huge numbers because of the guarantee that they will get good quality care in the most critical situations.
Dr. Danica Gomes, an emergency care doctor originally from New York City, has been running SBH's Emergency Department since summer 2016. She has significantly grown the department's professionalism and quality of care.
This is such an exciting time for St. Boniface. When I first joined the team there were only 6 beds in the Emergency Room. Now we have 21 beds, and the new ER will have more than 30. More often then not all of our spaces are completely full, which speaks to the need for advanced emergency services here.
In late 2017 we were thrilled to welcome Dr. Mirielle Bien-Aimé to the Emergency Department team. Dr. Bien-Aimé will be training with Dr. Gomes for the next six months, with the intention that she will take over leadership of the department when Dr. Gomes finishes her time in Haiti this summer. 
Dr. Bien-Aimé comes to SBH with over seven years of experience practicing medicine, and three years of experience in emergency medicine. She grew up in Gonaives, in central Haiti, and attended the Université Notre Dame d'Haiti for her medical degree. She then worked in cholera treatment with the MSPP (Haitian Ministry of Health) and Médecins du Monde from 2010-2012, working to treat patients and slow the spread of the disease at the height of the cholera outbreak in Haiti. After that service, she knew she wanted to work in emergency care, and did specialized training at Hopital Universitaire Mirebalais (HUM), Partners in Health's premier training hospital in Haiti, which had the largest and best-equipped emergency department in the country. 
I love emergency medicine because I am a very active person, and I like challenges. Emergency medicine is all about speed and specificity. When you receive a new case you often must do a quick and accurate diagnosis in order to save the patient's life. I find I am well suited to this work, and it is gratifying every day. 
Looking ahead to her future career at SBH, Dr. Bien-Aimé smiles. "This job is a dream come true. [SBH] has made great changes and improvements in emergency medicine since I first came here on a residency rotation in 2014. For several years HUM has had the only modern, fully equipped Emergency Department in Haiti. But with the new building at St. Boniface, I think that we are at the same level and are becoming a serious force for emergency care in Haiti."
The new Center for Infectious Disease and Emergency Care, funded in part by the generosity of the American people through USAID's American Schools and Hospitals Abroad program, is set to open on the SBH campus in February 2018. It will be the first-of-its-kind emergency and infectious disease treatment unit in southern Haiti.
Dr. Bien-Aimé has big plans for the emergency department's growth in the new center. "Dr. Gomes and I are working closely to create new protocols and staffing schedules to ensure our patients always get the best quality of care possible. I am looking forward to also providing training to our ambulance drivers so that they can help stabilize and safely transport critical patients. The [SBH] team has made this great step forward, with the new building, and I want to continue to make the emergency department the best it can possibly be."