Story
"I sensed that even though I was handicapped… people could not take away my personhood"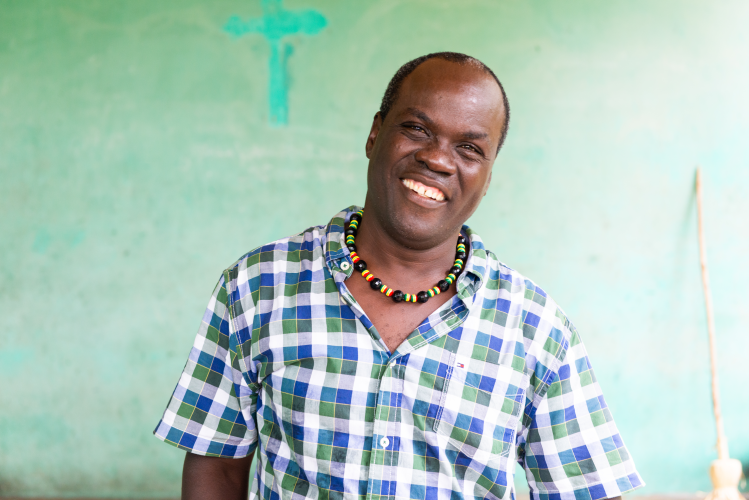 "Before I came to St. Boniface and I was sick, there were people who wanted to throw me out like a person who had already died. It was here that I was healed," recounts 38-year old Jean, a patient at St. Boniface Hospital's Spinal Cord Injury (SCI) Center, which is generously funded by USAID. For over six years, Jean suffered from a mysterious illness that slowly impaired his ability to walk and move. Although he visited a number of facilities and depleted his savings on medical care, he could find neither relief for his pain nor answers for what was causing it. Jean began to lose hope as his illness claimed his ability to walk and stand.
However, Jean remembered seeing a sign for SBH. A friend told him that the hospital provided excellent care and told Jean that he would be certain to find the treatment that he needed there. Jean contacted the SCI Center about his condition and a short time later, SBH staff transported him from his home in Les Cayes to the hospital. There, he received a safe place to stay, 24/7 care, and meals each day.
Of all the many hospitals throughout Haiti, St. Boniface is truly here to help Haitian people.
For the next eight months, Jean was confined to bed rest as he began receiving treatment for Potts Disease—a form of tuberculosis that affects the vertebrae and can lead to immobilization of the spine. Although he knew he faced a long road to recovery, Jean's spirit was immediately lifted. He said, "When I arrived, I felt like I was no longer alone … I could see that other beneficiary's spirits were also lifted, we would tell jokes and laugh together—no matter how sick we were. I sensed that even though I was handicapped, and I was in a wheelchair, people could not take away my personhood."
It took a full year for Jean to recover enough strength to begin physical therapy. Once he did, his condition began to dramatically improve: he quickly progressed from a wheelchair to a walker, to a cane. Now, seventeen months after arriving at SBH, Jean is walking on his own for the first time in six years. He is excited to return home to Les Cayes soon, where he dreams of opening his own small shop.
For Jean, our SCI Center is not just a care facility—it's a second home where he found a community. He told us, "If it were not for the help that you give here, many Haitians would die. Many people who have problems come here, and by the grace of St. Boniface, they find the help that they need. People come here with their children because of the way people are treated here. Of all the many hospitals throughout Haiti, St. Boniface is truly here to help Haitian people. And I want to say that I am not discouraged for the people of Haiti, I feel like real progress can be made through hospitals like St. Boniface."