Story
Malnutrition Strikes Children throughout Southern Haiti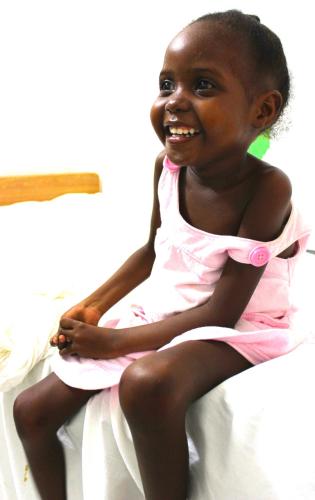 Mylove smiles and laughs now, but a few months ago she could barely speak. This beautiful three-year-old girl was so weak and sick from malnutrition that she could not walk. When her aunt brought her to SBH she said, "I thought I was coming here to see her die."
Mylove's short life has been difficult. Her mother died, and she was sent to live with cousins who were already struggling to feed their own family. The extra child proved too much for the family's meager income, and Mylove's health suffered. Her belly was swollen, and her arms and legs got so thin they looked like twigs.
By the time her aunt Yvetha came to visit last summer, she said, "I could tell she was much smaller than her cousins of the same age." She was also very sick. A local doctor told Yvetha to bring Mylove to the hospital right away. "I had never been to [SBH] before and had always been very curious to come see it. My mother had come here for care before when my father was sick. She always talked about this hospital being great." 
But Yvetha did not have much hope for the little girl. She had seen other babies in her community get sick and die too often. And Mylove was so, so sick. She no longer laughed or even smiled. Her body was so weak she could only walk short distances, and she had no interest in playing with other children. Her hair and eyes were dull, and she cried a lot. 
As soon as Mylove arrived at St. Boniface she was started on a feeding program that would slowly and safely build up her strength and nurse her back to health. Children with long-term malnutrition cannot simply start eating three big meals a day to regain their health. Eating specific high-nutrition foods, in small, regular portions, is the key. St. Boniface's doctors and nurses had to find out what nutrients Mylove was lacking, and gradually readjust her body to complete nutrition.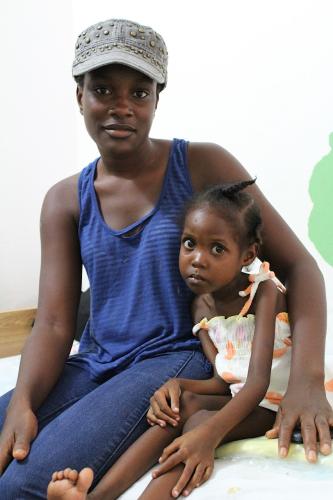 Because of the generosity of donors like you, Mylove was able to be admitted to the hospital for this intensive treatment, even though her family does not have enough money to put food on the table every day. Though Mylove stayed in the hospital for several weeks, her family did not have to pay for her treatment. This kind of care is so rare in southern Haiti. To be able to provide care to anyone who needs it, regardless of their ability to pay, is a blessing that you make possible. 
Today, several months after coming to SBH, Mylove is again a happy, giggling three-year-old, with a radiant smile and energy. She is still thin and small for her age, but with proper nutrition, she should catch up much of what she lost to malnutrition. Her family learned about ways of making meals that provide complete nutrition, with ingredients that are easily grown or cheaply purchased in their community. This difficult chapter in Mylove's young life is now behind her, and she looks forward to starting school.
There are thousands of children in the Fond des Blancs area just like Mylove. Because there is an ongoing drought in southern Haiti, our doctors and community health teams expect to see more malnutrition cases in the coming months. Your support allows them to go into the most remote villages to find children suffering from malnutrition before they become as sick as Mylove. Your donations also make it possible for us to treat every child who comes into our care, nursing them for as long as they need, until they are well.