Story
Nazaire's Journey from Patient to Employee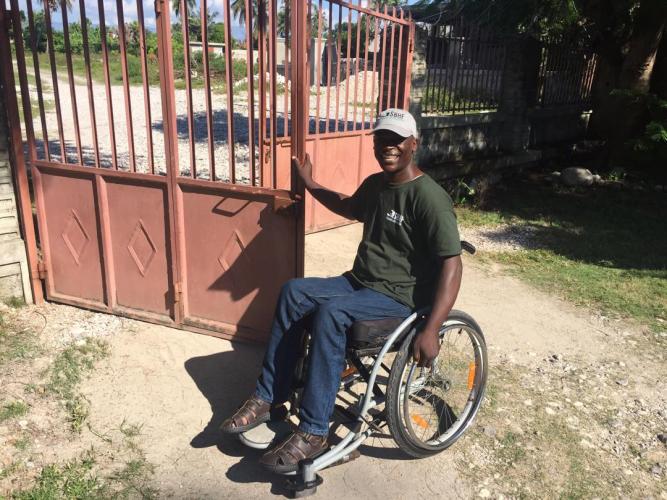 For International Day of Persons with Disabilities, we celebrate Nazaire and all the people with disabilities who contribute so much to HEI/SBH's work.
Nazaire Overti was paralyzed from the waist down in a motorcycle accident in July of 2012. He got treatment for his injuries in many of the best hospitals in the country, but it was not until he arrived at the HEI/SBH Spinal Cord Injury Rehabilitation Center that he felt he received all of the care he needed. Nazaire spent eight months at the SCI center, doing physical and occupational therapy, and learning how to care for himself and live a full, productive life in his new wheelchair. "[SBH] was the main reason for my successful rehabilitation," he explains, "I could not get in and out of my chair, and I was getting pressure wounds. Since I had care at [SBH] and have been part of the SCI program I have been able to do so much more."
Not only has Nazaire stayed connected to SBH since he returned home to Les Cayes through the SCI program's mobile clinics and regular support groups, for the past three months he has been an official SBH employee. Nazaire works as a guard at the Les Cayes office where SBH's mobile clinics are based. He minds the gate, controlling the people and vehicles who enter the office grounds and tends to the generator to make sure the office and staff residence always have enough power. He is proud to fulfill this important role.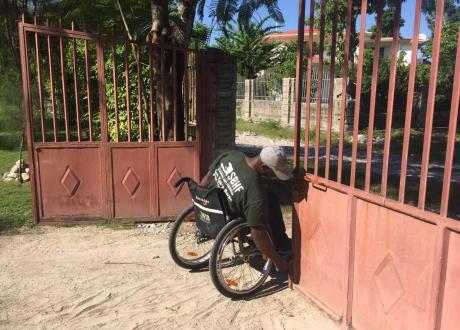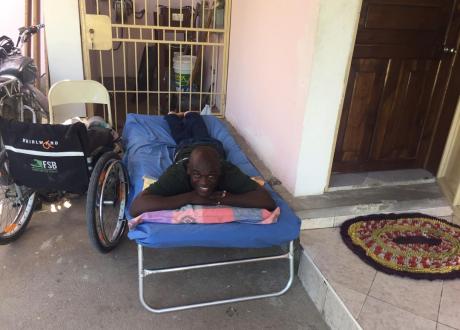 Nazaire takes regular breaks from his chair to avoid pressure sores and other health concerns from sitting for too long in the wheelchair. He is able to transfer to and from the chair quickly on his own when needed and can keep an eye on the gate from his lookout. He takes care of both himself and the office with minimal accommodations for his disability. 
Not only is Nazaire working full time and living independently but he also commutes to and from work every day on his own in a three-wheeled taxi (a new transportation option in Les Cayes!), with the help of a friendly driver.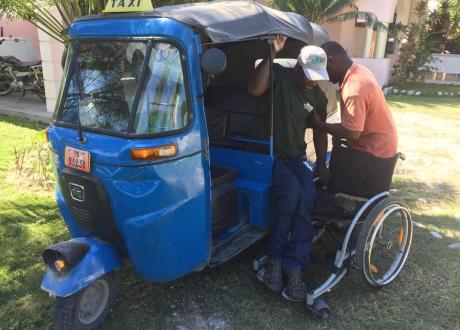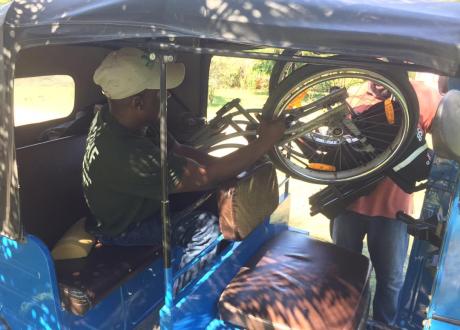 Nazaire is one of a handful of persons living with disabilities who work at SBH. From peer mentors in the SCI program to construction assistants, and guards and patient archive managers, people with disabilities are fully integrated into the St. Boniface workforce and play critical roles to keep the hospital running smoothly and our patients happy and healthy. One of the employees at the Les Cayes office where Nazaire works says that seeing Nazaire working so hard every day motivates him to overcome his own challenges and push through when things seem difficult. 
Fully integrating people with disabilities into their communities requires giving them opportunities for employment. People like Nazaire help overcome the stigma toward people with disabilities every day. He is living his life as fully and actively as his friends and neighbors who do not need the help of a chair to get around, and we hope that more and more employers see the value in hiring people like Nazaire, and see all that they can do and contribute to their jobs.