Story
"Once we started her treatment, we saw her change completely."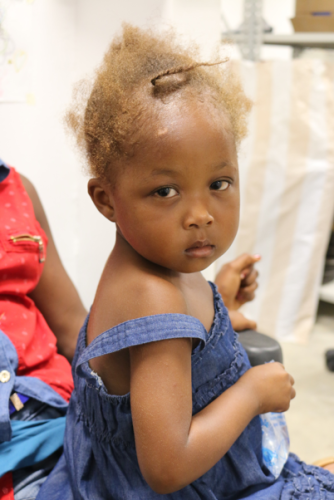 Three-year-old Alisant's condition was dire. Her small body was emaciated, and her stomach and feet were so swollen she could not lay down or walk comfortably. Her once-dark hair was now pale and brittle. She had a cough that would not stop and a fever that would not break. She struggled to breathe.
Her family brought her to care facilities near their home, but doctors were unable to diagnose her condition or provide medication to treat her symptoms. As her health continued to decline, her parents feared for her survival. However, her aunt Solange remembered the excellent treatment she once received at SBH and knew that there, her niece would receive world-class, compassionate care. Although the hour-long journey on rough roads would be difficult for the ailing toddler, Alisant's parents knew their child's life was in danger and allowed Solange to bring her niece to Fond des Blancs.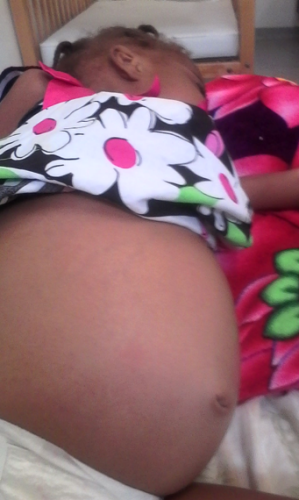 Once at HEI/SBH's new Emergency Care Center at our Center for Infectious Disease and Emergency Care (CIDEC), Alisant was diagnosed with tuberculosis and severe malnutrition. She immediately received oxygen to help her breathe and nutrient-rich milk to help her body become strong again. She was then transferred to the CIDEC's Infectious Disease Center, where the pediatrics and infectious disease teams began treating Alisant's tuberculosis with a combination of antibiotics that slowly destroys the disease.
Her family took a deep sigh of relief: Alisant responded well to the medications almost immediately. SBH pediatrician Dr. Files Aime recalled, "Once we started her treatment, we saw her change completely. She started to smile, and her appetite grew. She looked healthy again." Finally, Alisant was on the road to recovery.
Alisant's family began meeting with SBH's community health team to learn about their child's long-term care. The community health team are dedicated medical professionals who work in communities throughout southern Haiti to provide basic care and monitor patients who have been released from the hospital. Alisant's family learned how and when to give their child her medications over the next six months. The community health workers also made sure that they understood that if she misses any doses, she can easily become ill again. Alisant's family also received a supply of nutrient-enriched peanut butter to help Alisant continue to gain weight, which is essential to her full recovery. Finally, Alisant's family agreed to meet with the community health team each month to refill her medications, receive nutrition supplements, and measure her recovery.
After four long months of care at SBH, Alisant returned home in early January the happy, vibrant three-year-old her family knows and loves. Under the watchful eye of her family and SBH's community health team, she is continuing to get stronger every day.