International Day of Persons with Disabilities Celebrated in Fond des Blancs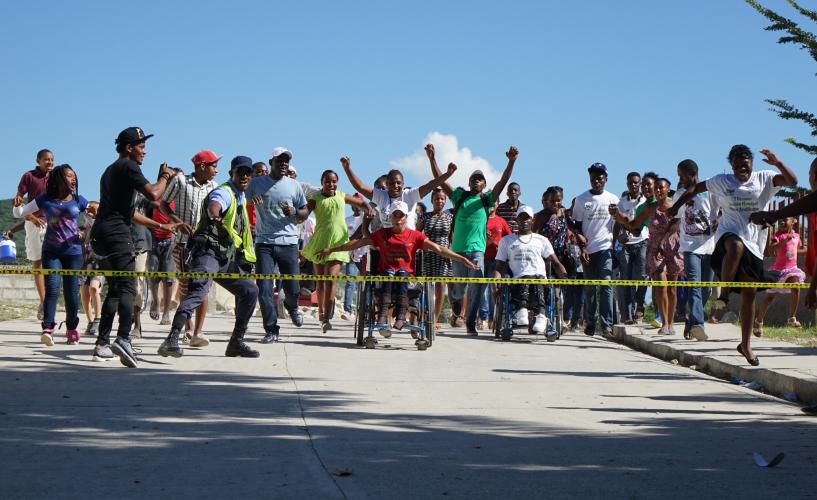 International Day of Persons with Disabilities happens every year on December 3. It is a day dedicated to raising awareness and inclusion of people with disabilities living in communities all around the world.
This year, for the first time in many years, our Spinal Cord Injury Center (funded by USAID with the generosity of the American people) sponsored a day of activities in Fond des Blancs to celebrate International Day of Persons with Disabilities. The agenda included a wheelchair race, adaptive soccer matches, and an evening concert. People turned out in large numbers to join in the festivities.
The first event was a wheelchair road race around the center of Fond des Blancs. People lined the route to enthusiastically cheer on the three racers, and many even jumped in and ran the last leg with them. 
Image
Next up was a soccer match at the town fields, located just behind HEI/SBH's brand new warehouse. Two teams of players who all have lower limb disabilities or amputations, squared off and played an intense game. They used their crutches to fly around the field, kicking and blocking like pros. 
Image
Image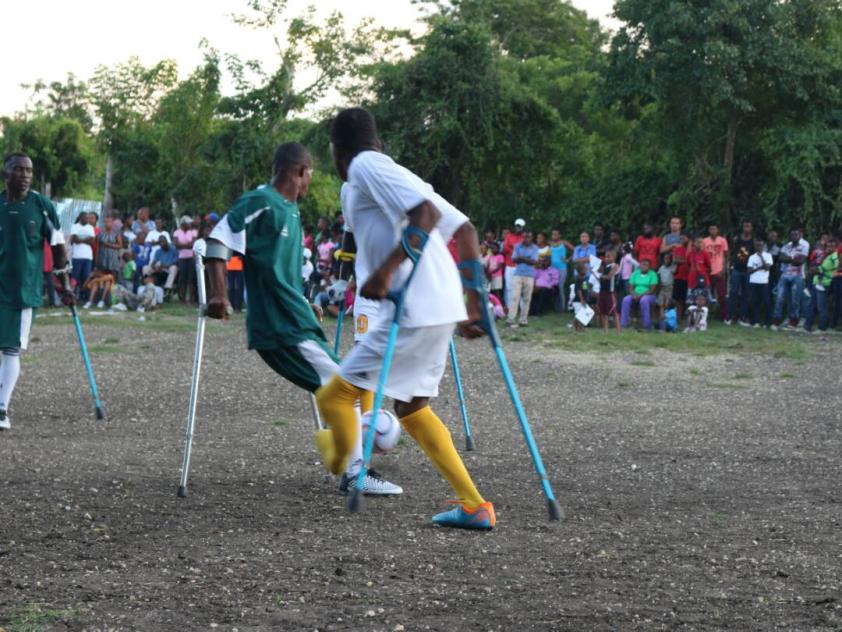 Image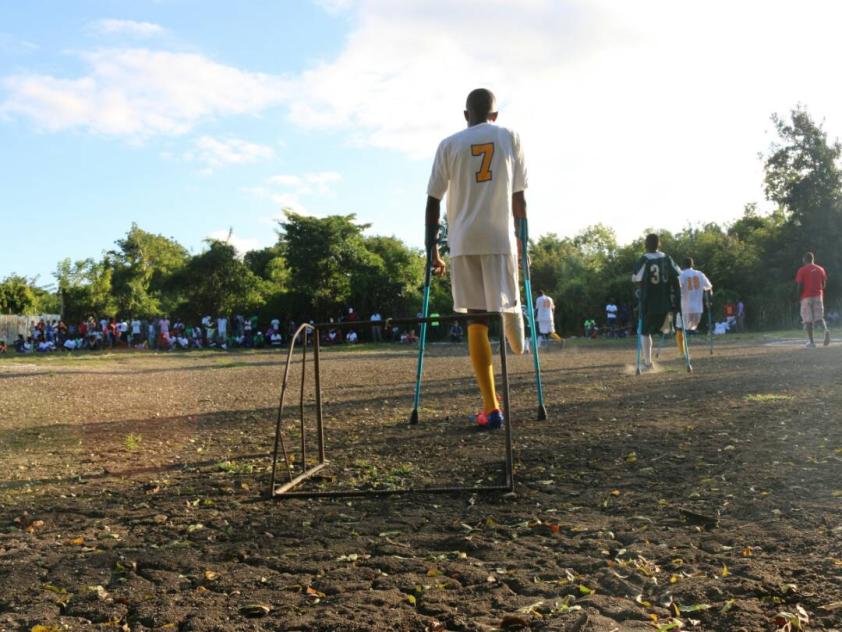 Finally, as the sun started to set, international Haitian music star Beken started his concert. Beken lives with a disability himself, after losing his leg in a car accident as a child. His beautiful and emotional songs are often about the difficulty of life, and the struggle to rise above adversity and find a way forward despite challenges. The attendees were wrapped up in his beautiful singing and guitar playing, which went on into the night. 
Image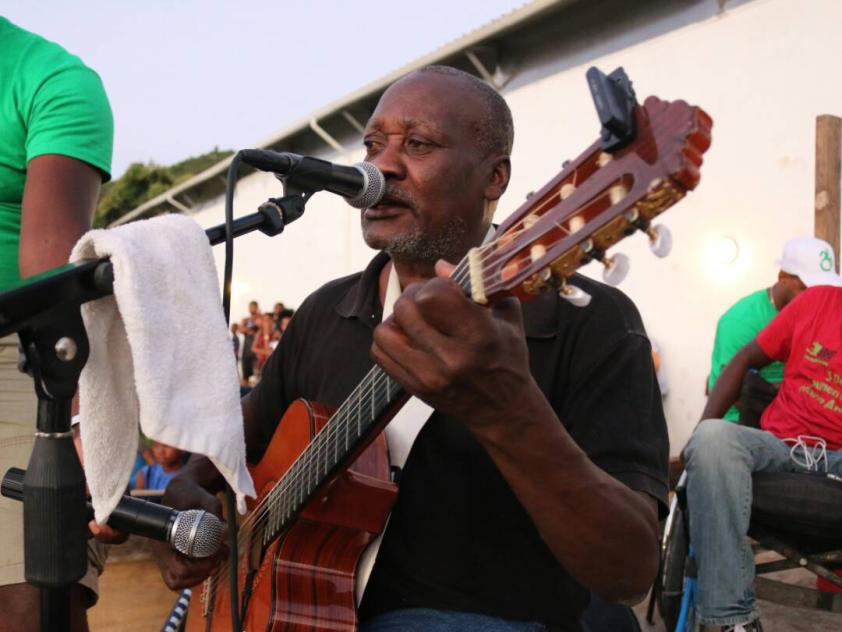 Image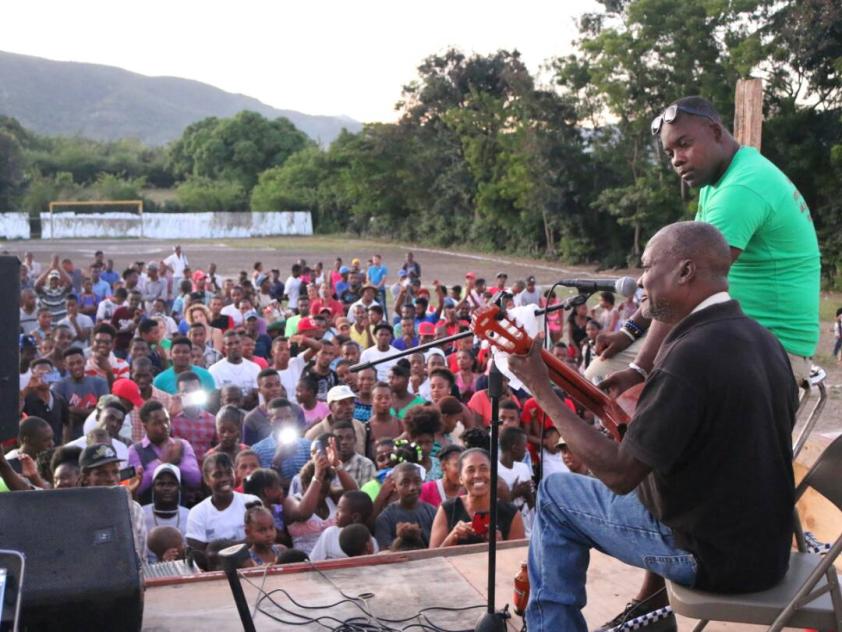 Sophia Laine, physical therapist at our SCI center, summed up the day as a great success. "We're so thankful for everyone who participated. It's the first time we organized this many activities for International Day of Persons with Disabilities, and it was a great event."
I hope this event helps to show that people with disabilities are as capable and deserving of every right and privilege as anyone else.
Sophia Laine, SBH Physical Therapist
Sophia went on to explain why International Day of Persons with Disabilities is so important:
"This day means a lot to me. One of the goals of the International Day of Persons with Disabilities is to raise awareness about the rights of people with disabilities in our society, and rather than marginalizing them, seeing them in a better light - without judgement. I wish for society to see people with disabilities without seeing them as people with no capacity. For example, if you are short you might not be able to reach something high up, and might need to ask for help from someone taller. But that does not mean you're not able to do things with your own abilities and talents. You just need help reaching high things. That is a simple idea, but it's similar to someone who uses a wheelchair to walk – it doesn't mean that person is unable to do things for him/herself, it just means they do some things a little differently. And if you're not in a wheelchair, or missing a leg, you may have other limitations that aren't so visible. Everyone has limitations, and everyone has abilities. I hope this event helps to show that people with disabilities are as capable and deserving of every right and privilege as anyone else."