The spinal cord injury (SCI) program at SBH serves as a model for SCI programs in resource-poor settings around the world.
After the January 2010 earthquake that devastated Haiti, an untold number of survivors suffered from an SCI but lacked access to the specialized care they needed to heal and return to their families. At the time, there were no inpatient rehabilitation beds for SCI patients in Haiti, and their life expectancy post-injury was less than two years. HEI/SBH responded to the need, taking in patients who had nowhere else to go. At the request of the US government and with initial financing from USAID, we developed Haiti's only comprehensive SCI program.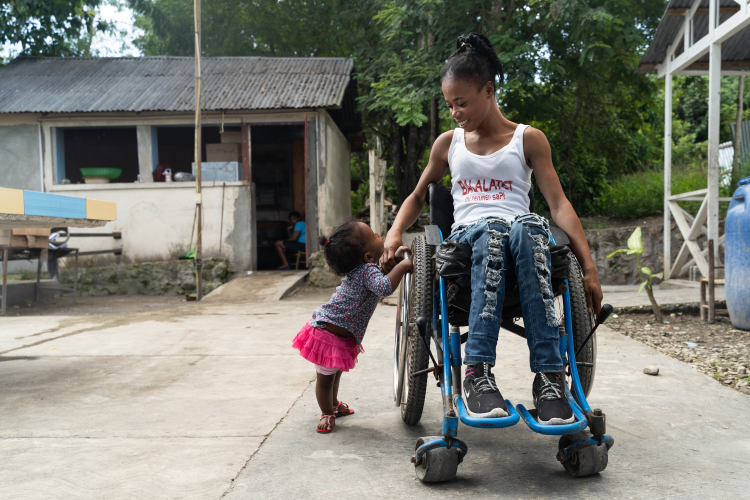 Our SCI program takes an interdisciplinary, holistic approach to caring for people with an SCI, addressing both their physical and psychological rehabilitation needs, educating family members and neighbors, and providing assistive devices like wheelchairs. 
Additionally, program staff work to raise awareness about people living with disabilities among healthcare professionals and within schools and communities, and partner with representatives from the Haitian government on advocacy activities.
When a new patient arrives at our SCI Rehabilitation Center, they receive a comprehensive evaluation, a treatment plan, and meals and lodging for the duration of their stay, usually several months. Patients receive frequent physical and occupational therapy sessions, individual psychotherapy, and group support as well as medical care. They have opportunities for recreation, and can participate in twice-weekly vocational training sessions led by an artisan instructor. They also see others like themselves who are integrated into the hospital workforce and local community and experience a sense of belonging. For SCI patients in Haiti, many of whom thought their lives were essentially over as soon as they were injured, the program's ultimate impact is their ability to believe in a future for themselves.
Approximately 150 individuals with an SCI are currently enrolled in our SCI program, including around 140 who are home-based in communities across Haiti. In addition to earthquake survivors, we care for patients with traumatic SCI due to other natural disasters, vehicle accidents, falls, and gunshot wounds.
The SCI Center has also provided thousands of outpatient rehabilitation sessions to non-SCI patients in need of physical therapy.