Story
For Dr. Medela, Combatting Hypertension is Personal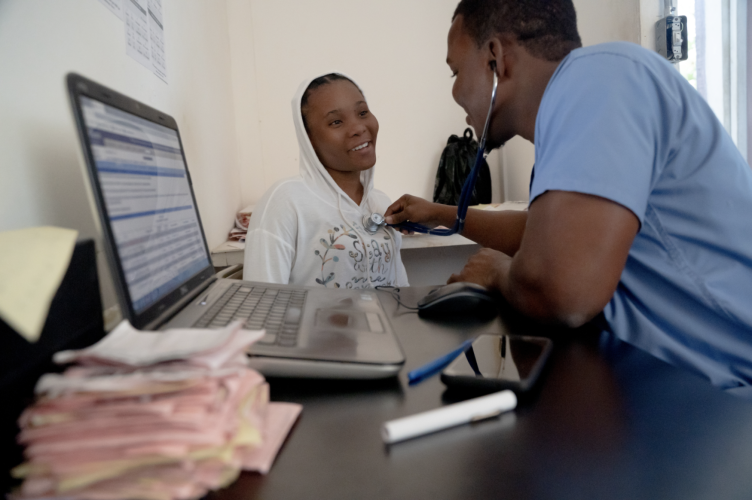 Mackensy Medela, a general practitioner at SBH, is ready for anything. Jumping into critical cases is his specialty. On any given day, you might find him dashing from the internal medicine department to the surgical floor, ready to scrub in for an emergency Caesarean section. His friends affectionately call him "gwo tonton," meaning "big uncle" in Haitian Creole—a reference to his large stature and the respect he holds amongst his peers. 
Mackensy, 29, is the son of farmers from Les Cayes, a large city on the end of Haiti's southern peninsula. He has a unique connection to SBH's hypertension patients. Months after he graduated from medical school, Mackensy was in Port-au-Prince when he received a panicked call from his youngest sister. His mother had collapsed in church and was being rushed to the Les Cayes hospital. His mother had a stroke, a direct result of hypertension that she developed at a young age. Mackensy's mother did not make it to the hospital in time. "It took me many months to accept," Mackensy said. "I had just graduated in March and by June she was gone." 
"She was really proud of me … she saw that my success was her success, and it was," Mackensy adds. His mother's death began to change how he worked with patients. "When I take care of a patient, it's like I'm taking care of my mother. I really believe that. I'm doing for them what I couldn't do for her. I see that very clearly." It's no surprise, then, that Mackensy feels a special connection to patients with hypertension. "I'm very focused on them," he says.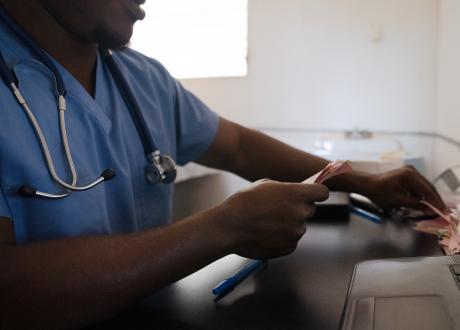 Hypertension—commonly known as high blood pressure—is a serious problem around the world. According to the World Health Organization, an estimated 1.13 billion people worldwide have the condition, and ⅔ of these people live in middle- and low-income countries. In these settings, access to quality, affordable healthcare is limited for most people. As a result, hypertension and other noncommunicable diseases (NCDs) have very high rates of morbidity and mortality because people cannot get the regular medical attention they need to manage their condition. 
Hypertension is largely attributed to genetic predispositions worsened by behavioral factors such as diets high in sodium, obesity, social stressors, and inactivity. Hypertension contributes to an increased risk of stroke, renal failure, and heart failure. In fact, according to the Haitian Ministry of Health, high blood pressure is the leading cause of death in adults in Haiti. While hypertension is fairly easy to treat with medications and regular checkups, many patients do not seek care until it's too late. "They live with hypertension silently," Mackensy adds. "What brings them to the hospital is oftentimes a serious complication. It's a big problem."
Mackensy sees many of these patients in the internal medicine department. Under his care, he provides them with medications and careful observation and ensures they eat the nutritious meals the hospital provides. He also works to educate his patients on the risks of living with high blood pressure and the importance of being tested. "Taking medications changes lives," he says. SBH recently opened an NCD outpatient clinic to provide patients with the regular care they need to stay healthy and avoid serious health complications. At the clinic, NCD patients receive a monthly checkup to help monitor their condition, track their progress, and adjust their medications as needed. To date, nearly 800 patients are receiving regular care at the clinic.
At SBH, Mackensy and his fellow physicians work every day to treat patients with hypertension and other NCDs. Through interventions, medications, and community education, our staff is working to combat hypertension head-on. Mackensy knows that his mother would be proud of him. "I still remember when I told her I wanted to be a doctor," he remembers, "she was so happy."