Water is always top of mind for many people in southern Haiti, as it is for HEI/SBH's Ekip Dlo—Team Water. Lead by Water, Sanitation & Hygiene (WASH) Coordinator Lisa Ward, the Ekip Dlo works hard every day to ensure a ready supply of safe, clean water for hospital activities and patients.
Julio Fortune joined SBH's water maintenance team in early December 2016 and has proved a central player in ensuring the hospital has, not only a steady and clean supply of water but also a dependable reserve. Every day he performs a backwash and systems check on the hospital's new GE Community TAP water filtration system. 
My priority is making sure the water filtration system runs well. If this machine has any problems, the hospital will be without water. 
Julio Fortune, plumber and water systems technician
After doing the filtration system maintenance, Julio checks each building's water meter daily to monitor for any issues. He is an incredible asset to our maintenance team because he is also a plumber. "If one of our meters indicates an abnormal water usage, I can find and fix the problem immediately," he explains. 
Monitoring and maintaining water systems at SBH is no easy task. Just one broken toilet allowed to run overnight can lose a thousand gallons of water. To put that into perspective, the water truck which fills the hospital cisterns several times a day can only hold three thousand gallons at a time. One leak or malfunction can quickly create a water shortage.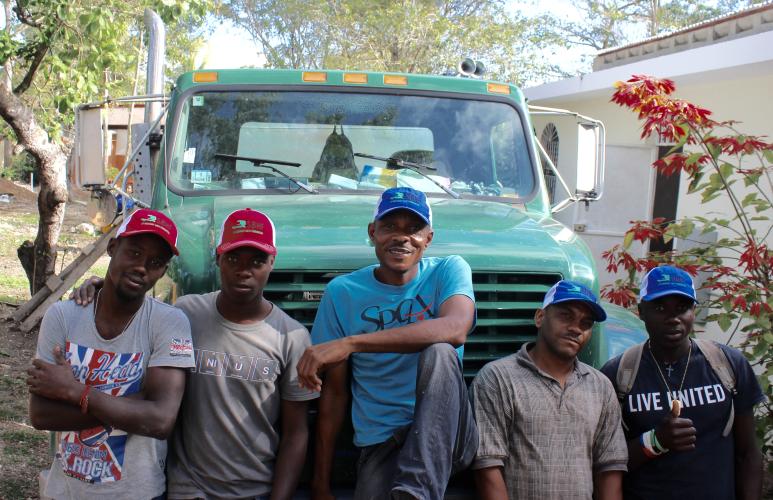 Water, Sanitation, and Hygiene (WASH) Coordinator, Lisa Ward, thanks to the teams who work tirelessly to provide the hospital water. "Two years ago, St. Boniface Hospital faced both water quantity and water quality issues. Since then, we have increased water storage capacity with a 20,000-gallon tank, enhanced a three-mile water pipeline that delivers water to the community and the hospital, improved the rain harvesting system on several hospital buildings, purchased a water truck that can carry 3,000 gallons per trip, installed the GE CommunityTAP Filtration system and can generate up to 50 gallons of chlorine solution each day for use in water treatment and infection control. The significance of these achievements cannot be understated. It has taken a team effort to get to this point and we are all inspired to keep moving forward."