Story
Home Visits Help Keep Marie's HIV Treatment On Track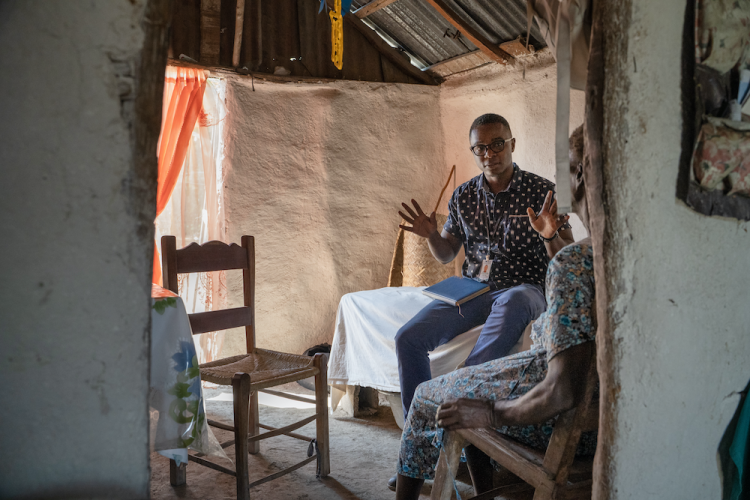 Marie's daughter leans against her front door as the ambulance from SBH pulls up to her family home in Laborieux, a remote beachside town on the coast of Haiti's southern peninsula. Junior Oscar, a social worker for our HIV/AIDS program, steps down from the ambulance and introduces himself. Junior makes regular visits to his patients' homes to make sure they're staying on treatment, and to see if—and how—he can make their lives a little easier. For patients like Marie, who cannot afford to travel to the hospital regularly, these home visits are a critical lifeline.
"It's so nice to see you," Marie exclaims as she peeks her head out from behind a curtain—a comb protruding from her hair. The 57-year-old doesn't remember when she was diagnosed with HIV or how she contracted the virus. She remembers that it was near the time of the earthquake in January 2010. But the details are foggy. She told us, "There was a period of time that I wasn't feeling well, I was too tired, and I started getting rashes all over my skin." That was when Marie decided to seek care at SBH, which is about an hour's moto ride away.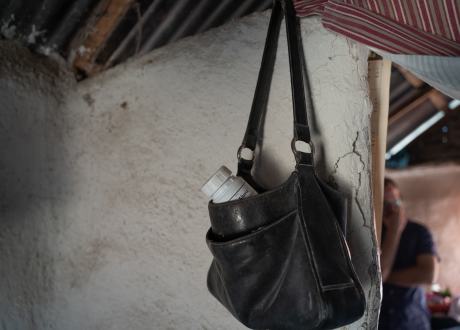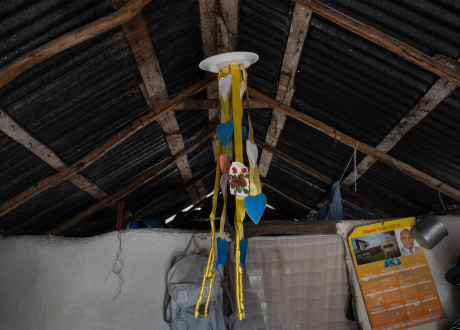 After a full examination, our doctors diagnosed her with HIV. Marie is a fighter and knew she wanted to do everything she could to stay healthy for her family. So, after her diagnosis, Marie met with a social worker and enrolled in our HIV/AIDS program. Through the program, she receives antiretroviral medications, regular checkups to ensure she's staying healthy, a travel stipend to help her get to the hospital when needed. The program also offers support groups and one-on-one counseling, which allows patients to be open and honest about the feelings, fears, and concerns that so often accompany living with the virus. HIV is highly stigmatized in Haiti, as it is in many other countries around the world. Patients living with HIV often keep their diagnosis hidden from friends and family out of fear of ostracization and abandonment. In fact, Marie's son doesn't know about her HIV status—she says she doesn't want to bother him with worry, and that she prefers to keep that information private. But in an HIV support group, patients like Marie don't have to hide.
Image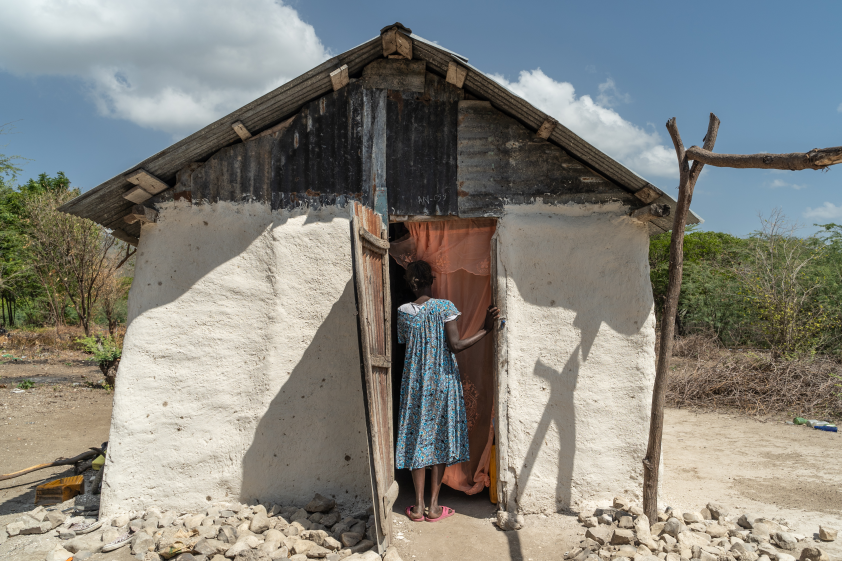 Patients like Marie bear witness to the ebbs and flow of global HIV funding. SBH does everything in its power to support people living with HIV/AIDS, but the availability of global funding has become more restrictive each year. Marie, like many of the hospital's patients, struggles financially. When her husband died six years ago, Marie's family lost any semblance of financial stability. She used to be able to travel to the hospital every month for her medication refills and checkups. But now, even with financial support from the hospital, she can only afford to visit St. Boniface every six months.
In between hospital trips, staff from the HIV/AIDS program conduct home visits with Marie and other vulnerable patients to make sure they are doing as well as possible. Bringing care directly to the patient eliminates the burden of affording regular transportation to the hospital. Junior likes to meet with patients to better understand their challenges, and he tailors his approach to fit their individual needs. Junior sees Marie as a priority. He hopes to help one of Marie's daughters start a business so she can better support her mother, and he is helping to increase Marie's access to clean water by teaching her how to use water purification tablets.
Marie, however, is content with her situation. With the support of the SBH's HIV/AIDS program and her community, she is able to make it work. Marie goes to church, she cares for her children and grandchildren and is able to live a relatively normal life. When asked her biggest problem, Marie leans back in her chair, throws up her hands, and declares, "Problems? I have no problems. My life is simple."