The Unexpected Impacts of COVID-19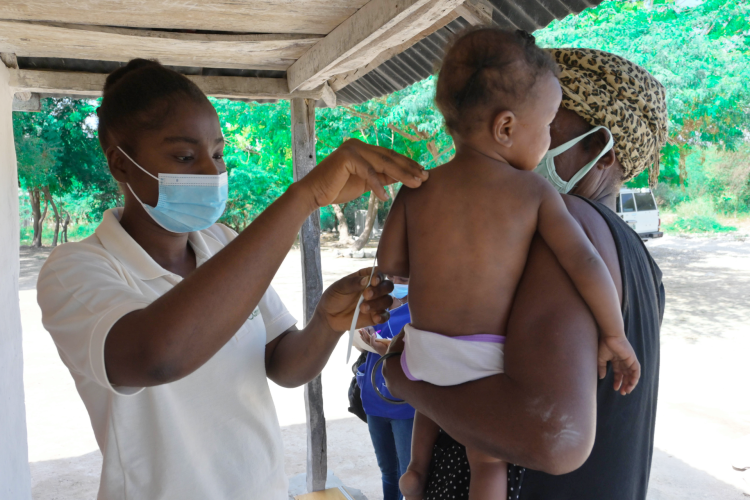 The pandemic's devastating impact on Haiti's economy, food supply, and health system may be more life-threatening than the virus itself.
As much of the world starts to emerge from the COVID-19 pandemic, SBH staff continues to see the far-reaching consequences of health inequity in Haiti. While the disease is no longer a direct threat to most of our patients, they are suffering from its ancillary effects, including a steep rise in food insecurity. Lisa Eppich, HEI's development and communications manager, spoke with Miss Claudine Joseph Bernard, SBH's head community health nurse, to find out how our community health team is combatting this crisis:
Lisa Eppich: What has been surprising about how the pandemic has impacted Haiti so far?
Claudine Bernard: There is a clear connection between food insecurity and the pandemic. People were told not to go outside unless necessary; this meant that the farmers' market everyone goes to became paralyzed. Many vendors [stayed home]…it became difficult to find food to eat. The economy is [also] in decline. With the lack of money and scarcity of food products, people have lost weight.
LE: How has the community health team helped to mitigate the impact of this food insecurity?
CB: Our staff has nutritional recovery clinics in the communities we serve. We have an outpatient program for severe cases of malnutrition and a nutritional supplementation program for moderate cases. We have distributed over 500 food kits for underweight children. We educate parents continuously.
There is a clear connection between food insecurity and the pandemic.
Claudine Bernard, Head Community Health Nurse
LE: In addition to the malnutrition screenings you normally do at rally posts, you also did an intensive malnutrition screening campaign this spring. Is that correct?
CB: Yes, we really wanted to assess the impact of COVID-19 on the nutritional status of children in our communities. In addition, Fond des Blancs has just been classified as a "red zone" for food insecurity. The malnutrition screening campaign in March and April targeted children 6-30 months old at our 43 rally posts, and children 3-6 years old in more than 67 schools. The results of this campaign will help distinguish acute malnutrition from being underweight. That way we can put in place better strategies to fight malnutrition.
LE: Are we seeing any other ancillary effects of the pandemic in our communities in addition to food insecurity?
CB: Patients are going to the hospital infrequently out of fear of contracting COVID-19. This has led to irregular monitoring of patients with chronic conditions such as hypertension, diabetes, tuberculosis, and HIV. We had to reduce a lot of our community activities to prevent COVID-19 transmission.
LE: How else is the community health team working to mitigate these effects?
CB: The fear of the disease we were able to remove with awareness and education in the communities. Our team members go to each child's house to administer vaccines and do daily door-to-door house calls. If a child is malnourished…you have to go to their home. We brought together all of the grassroots organizations in the area to collaborate on COVID-19 surveillance. We trained all of our community health workers to continue COVID-19 awareness activities and encourage people to come to the hospital if they need to.