On March 19, 2020, Haiti announced its first cases of COVID-19. HEI/SBH had begun preparing for the virus's arrival in early February, working with the knowledge that pandemics have a disproportionate impact in low-resource settings.
We conducted dozens of staff trainings as well as numerous health education and awareness events in the communities we serve. Those events covered prevention strategies like social distancing and hand washing in addition to COVID-19 symptoms and when to seek hospital care.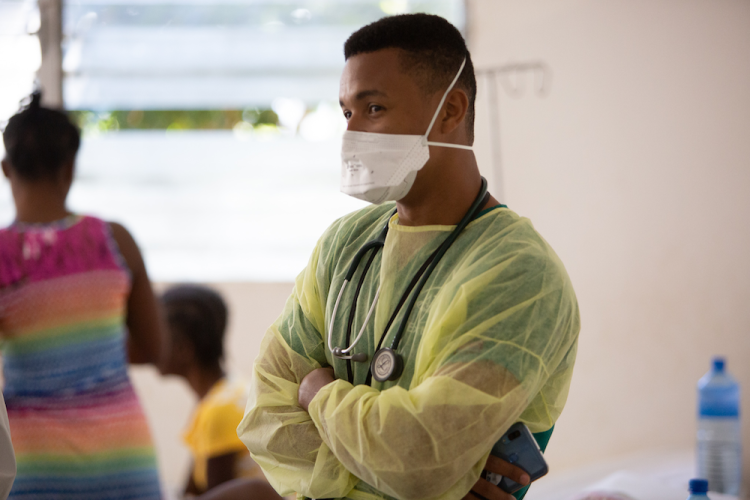 Because SBH is the only facility in southern Haiti capable of caring for COVID-19 cases, the Haitian Ministry of Health (MSPP) designated us as the sole referral site for all patients in the region. 
With a new, state-of-the-art COVID-19 Triage and Treatment Center, designed and built by partner organization Build Health International, SBH cared for over 500 patients. Oxygen was available for them 100% of the time. We also conducted 3,288 COVID-19 tests and monitored nearly 1,000 patients who were able to quarantine at home. Our last inpatient was discharged from the hospital in March of 2022.
HEI/SBH also played a leading role in advocating for COVID-19 vaccine equity. After months of advocacy work with international stakeholders, and with critical support from MSPP, in July 2021 SBH became one of the first organizations in Haiti to receive vaccine doses. Our community health team was ready, and immediately began administering doses. By the end of of 2022 they had administered more than 12,000 doses of COVID-19 vaccine, making our vaccination campaign one of the most successful in the country. It's a model that has been visited by national-level health professionals seeking to learn from our success.
Though COVID-19 has abated in Haiti for now, we remain on alert for a possible recurrence, as well as for other pandemic and epidemic diseases.