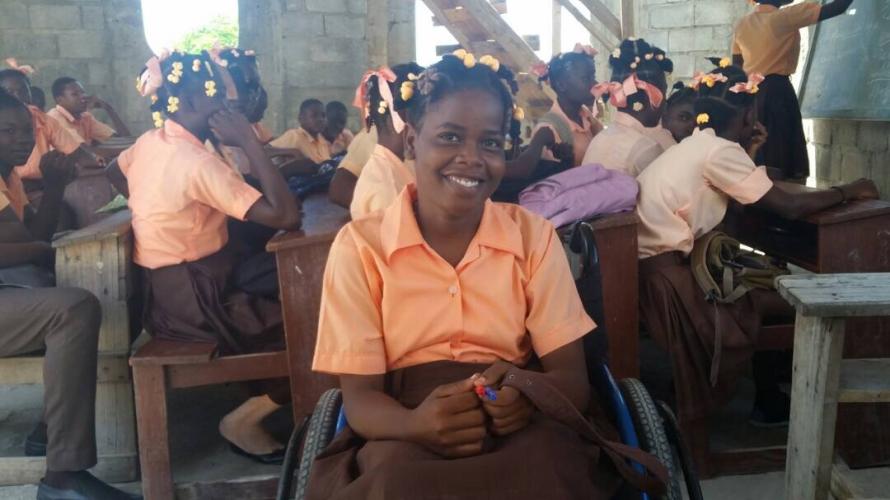 Charlisena Lubin was a regular 13-year-old girl living in the seaside town of Les Anglais, on Haiti's southwest coast. Then Hurricane Matthew roared through her town, destroying the majority of structures and causing devastation to the community. In the midst of the storm, Charlisena and her family fled their home as it started to collapse around them. Charlisena was hit by a flying tree branch, and the impact permanently damaged her spinal cord, leaving her paralyzed from the waist down.
Charlisena came to HEI/SBH's Spinal Cord Injury Center, generously funded by USAID with the generosity of the American people, a week after Hurricane Matthew. As soon as the roads were passable, Charlisena's family had brought her to the public hospital in Les Cayes with a group of other patients, but they were unable to get care there due to the hospital's own damage during the storm. The staff in Les Cayes called SBH, and a team of drivers and doctors drove through the night to bring them to St. Boniface Hospital. Once at St. Boniface Charlisena was admitted to the Spinal Cord Injury center rehabilitation program, where she received over seven months of rehabilitation and skills training to help her return home and prepare for life in her new wheelchair.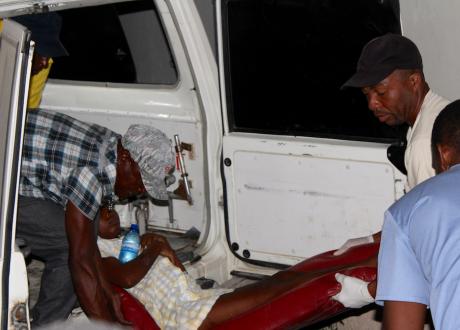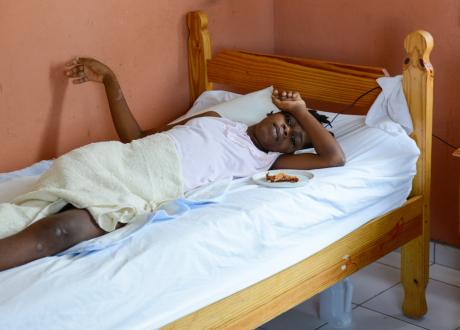 The early months were difficult. Charlisena had a hard time coming to terms with the dramatic and permanent change in her life. This quiet girl was understandably unsure about her future, and how she would be able to return to her "normal" life if she couldn't walk. As time went on, and the dedicated and caring staff at the SCI center helped her with physical therapy and psychosocial support, Charlisena's deep strength was able to flourish. She made friends and saw her peers at the Center living and thriving with similar physical limitations as her own. 
But still, Charlisena told her support team that she didn't think she would use her wheelchair at home. She didn't want to be "that girl in the wheelchair." She didn't see how she could return to school, which is a long walk from her house, or participate in her old activities. Peer mentors at the SCI center talked to her about managing to live a relatively normal life in rural Haiti while in a wheelchair, but she remained unconvinced.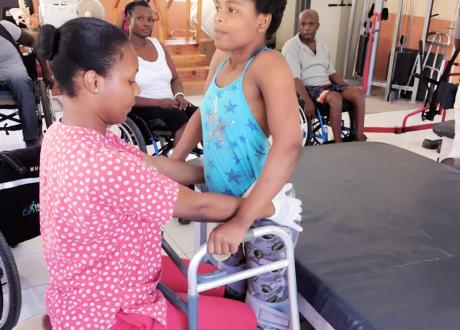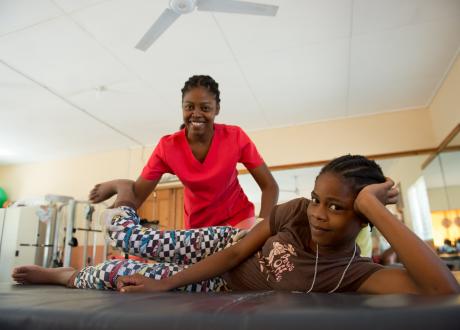 In June 2017, Charlisena returned to Les Anglais, where she lives with her mother and grandmother. They also sustained injuries in the accident during the storm, with her grandmother eventually needing to have her foot amputated because of an infected wound. Her grandmother gets around now with a walker but spends much of her time at their home. Charlisena's father lives nearby and is also very involved with her life and care, having spent the first few weeks of her residence at the SCI center in Fond des Blancs to support her and keep the family back home updated on how she was doing. 
By August, the school year was starting up. With support from the SCI program, which is helping the family pay tuition fees, Charlisena was all set to return to school. But she was still feeling uncomfortable about traveling to school and interacting with her classmates in her new wheelchair. The last time any of them had seen her she was an active, shy, "regular" 8th grader. Now she was returning, nearly a year later, the same person, but having been through a traumatic and life-changing experience—the physical evidence of which would be obvious to all of her classmates. It's understandable why a teenager, or anyone, would feel worried and uncomfortable!
But, Charlisena's old friends and new classmates weren't going to let her hide at home or shrink back into the shadows. On the first day of school, they welcomed her back with open arms and huge grins. They didn't care that she was in a wheelchair, they were glad to have her back, and her new way of getting around only made her someone that the kids wanted to get to know better. Groups of friends now walk with her for the 45 minute trip to and from school and help push her chair over the worst parts of the road. They encourage her to participate in school and community activities, and you can see the joy on all of their faces at being reunited with their friend - to say nothing of the happiness that Charlisena feels at being so welcomed back into her community.
Image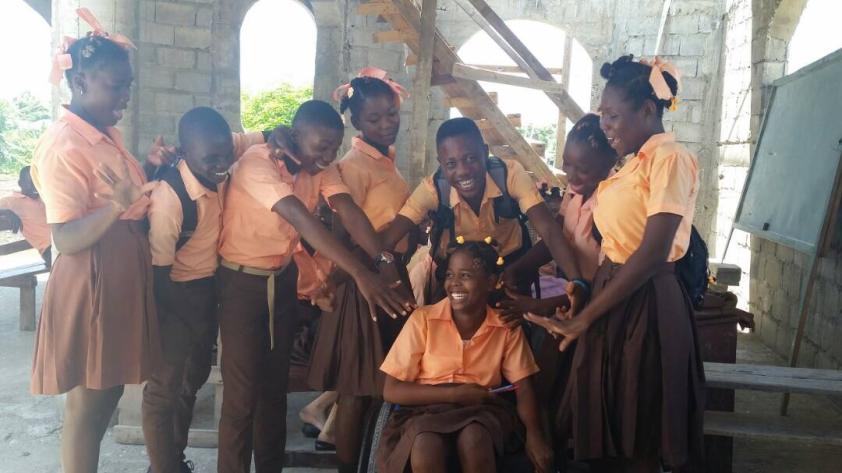 One year after the storm Charlisena continues to make great progress with the help of her loving parents, her community, and the HEI/SBH Spinal Cord Injury team. Therapists from the SCI center make the seven-hour drive to Les Anglais every few months to ensure Charlisena is healthy and happy, and that her wheelchair is in good working order. The rough roads, made even worse after the storm, cause a lot of wear and tear on wheelchairs, so new wheels and other parts are needed often. 
Everyone who has met this quiet but powerful young girl is moved by her courage and fortitude and thrilled to see her doing so well. This is what HEI/SBH's Spinal Cord Injury program is all about - ensuring that people who have been through traumatic physical injuries can live long, healthy, happy lives as active and engaged members of their communities. Charlisena is an inspiration for everyone involved with the program and anyone who understands how difficult these challenges are. 
If you want to help support the SCI program and all of HEI/SBH's work to ensure that people like Charlisena and her family get the care they need and deserve, please make a donation today.