On October 4, 2016, Hurricane Matthew—a Category 5 storm—tore through southern Haiti. When the winds died down, we immediately mobilized to deliver urgent aid. Together with local organizations and international agencies such as the World Food Programme, PAHO, and USAID, we provided life-saving, on-the-ground support to thousands in need. With over 30 years of experience in southern Haiti, we were proud to bring our extensive knowledge of the region to provide the most targeted aid possible.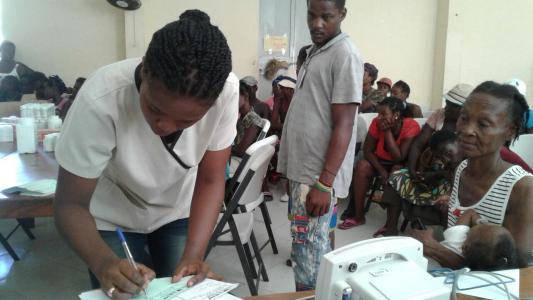 To combat the long-term impacts of the disaster, our response transformed to focus on cholera prevention and treatment; emergency aid distribution in our immediate area; and mobile clinics to provide care in remote areas hit hardest by the hurricane. Concurrently, SBH remained open and fully operational. As the only fully functional hospital in the hurricane impact zone, it was imperative that patients could access our full range of services at all times. 
Funded by a grant from UNICEF, our two mobile clinic teams saw over 15,000 patients in two rounds of clinics over 10 months. In total, the teams examined 7,300 children and gave 1,285 of them routine vaccinations and boosters. We also trained a group of 26 new community health workers (CHWs) to serve these communities and provide critical primary care services they needed to heal and rebuild their lives in the wake of tragedy.
Click here to learn more about Hurricane Matthew's impact on cholera, how we worked to combat this disease between 2010 and 2019, and how we are countering its 2022-2023 resurgence.