Story
An Hours-Long Journey for a Safe Delivery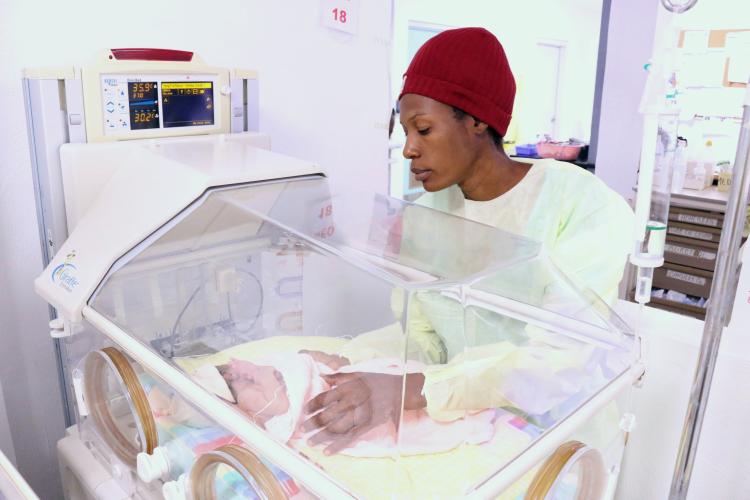 Marie Ange Elie was thrilled to be pregnant with her second child. At 40 years old, she wasn't sure if she could ever have another baby. She did everything she could to ensure her son's safe arrival: she went to all of her prenatal appointments at the hospital near her home in Port-au-Prince and scheduled a Cesarean-section (C-section) when it became clear one would be necessary. She couldn't wait to see her baby's face for the first time.
But when Marie went into labor two weeks before her due date, the hospital told her they could no longer perform the C-section she needed: they had run out of anesthesia. Terrified and in pain, Marie was turned away. But despite her fears and the labor pains that grew more agonizing by the minute, she knew what she had to do to save her baby: Marie needed to go to SBH.
Without the care of St. Boniface, I am certain that both myself and my baby would have died. I am very grateful to be here.
Her husband was concerned, as they had never been to SBH before and the drive would take more than five hours. But Marie was adamant: she knew that once in Fond des Blancs, she would be given world-class care, no matter how complicated her situation or her ability to pay. There, she would finally meet her beautiful baby boy.
The journey was difficult for Marie, whose labor pains intensified each minute. Marie's husband had alerted the hospital of their situation and that his wife's condition was rapidly deteriorating. We rushed an ambulance to meet the couple on the road and deliver them quickly and safely up the long, rocky path to the hospital.
Hours after leaving their home in Port-au-Prince, Marie arrived in Fond des Blancs, and our surgical team rushed to perform an emergency C-section. Marie's brand-new baby boy, whom she named Eud-Ryan, was immediately brought to the NICU, where he was stabilized. Marie then endured three more hours of surgery, as her traumatic labor caused bleeding and extensive damage to her uterus.
The next morning, after a very long night, Marie and Eud-Ryan finally met for the first time. After another week of rest and recovery, mother and son were ready to return home to Port-au Prince. Holding her newborn in her arms, Marie told us, "At most hospitals in Haiti, you are required to bring your patient files and pay a fee before you can be seen. Here, at St. Boniface, every patient is treated without exceptions. Without the care of St. Boniface, I am certain that both myself and my baby would have died. I am very grateful to be here."