The first-ever case of cholera in Haiti was identified in the Artibonite River valley north of Port-au-Prince in October 2010. It was traced to improper waste management practices at a UN Peacekeeper's camp. Cholera spread rapidly throughout the country, eventually killing nearly 10,000 people, according to official Haitian Ministry of Health figures.
Cholera is an intestinal infection contracted through contaminated water sources. The destruction caused by earthquakes and hurricanes offers the perfect breeding ground for the disease: ruined infrastructure and limited hygiene allow cholera bacteria to enter water and spread widely.
HEI/SBH helped lead the charge against the cholera epidemic in southern Haiti, which intensified after Hurricane Matthew in October 2016. According to the UN Office for the Coordination of Humanitarian Affairs (OCHA), Haiti saw a 258% increase in cholera infections between 2015 and 2016.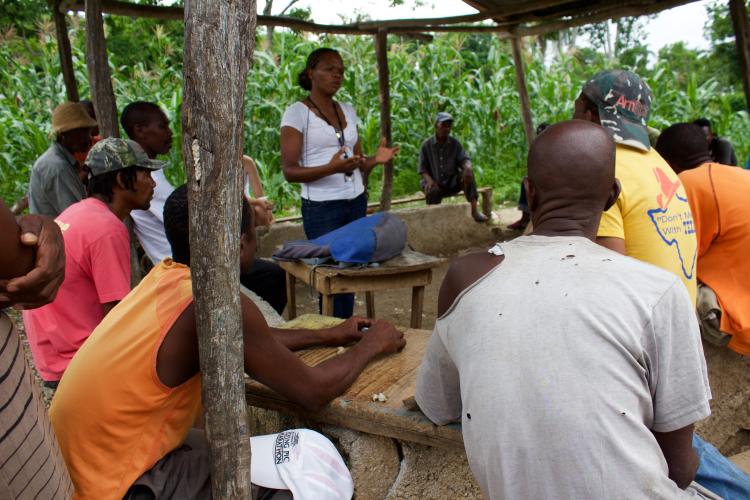 Our two-pronged approach focused on safe, isolated treatment, as well as dedicated prevention efforts in communities most at risk for the disease. In these areas, our community health team provided education about cholera and how to prevent its spread, and distributed water treatment kits and oral rehydration salts.
Following Hurricane Matthew, we also launched a mobile clinic team to administer cholera vaccinations to people who would not otherwise have access to preventive medicine.
Thanks to the coordinated efforts of the Haitian Ministry of Health (MSPP), CDC (U.S. Centers for Disease Control and Prevention), Pan American Health Organization (PAHO), United Nations Children's Fund (UNICEF), and organizations like ours, the cholera epidemic retreated.
According to the CDC, there have been no new laboratory-confirmed cases of cholera in Haiti since February 2019. However, we must continue improving Haiti's water, sanitation, and hygiene (WASH) infrastructure to prevent cholera—and other waterborne diseases—from returning in the future.